1992
Greenleaf sets up as a partnership business, in a domestic garage, and the first RootRain Metro tree waterer is patented and launched to the market.
1995
New larger tree waterers launched – Civic and Precinct, in response to market demand.
1996
Greenleaf now introduces a range of root management products – including ReRoot, our own patented shallow root management product, and Root Director. Now we are not just addressing causes of tree mortality, but also designing product to help deal with shallow root heave problems which create problems for many local authorities.
1997
Move to new premises, Croft Road, Hastings, 3500 square ft, a real step forward.
1998
A more comprehensive range of unban tree products continues to come together, including the RootRain Urban – our best-selling tree irrigation product.
2001
RootCell – the first commercial soil cell system launched – a major move forward, and a global first for Greenleaf.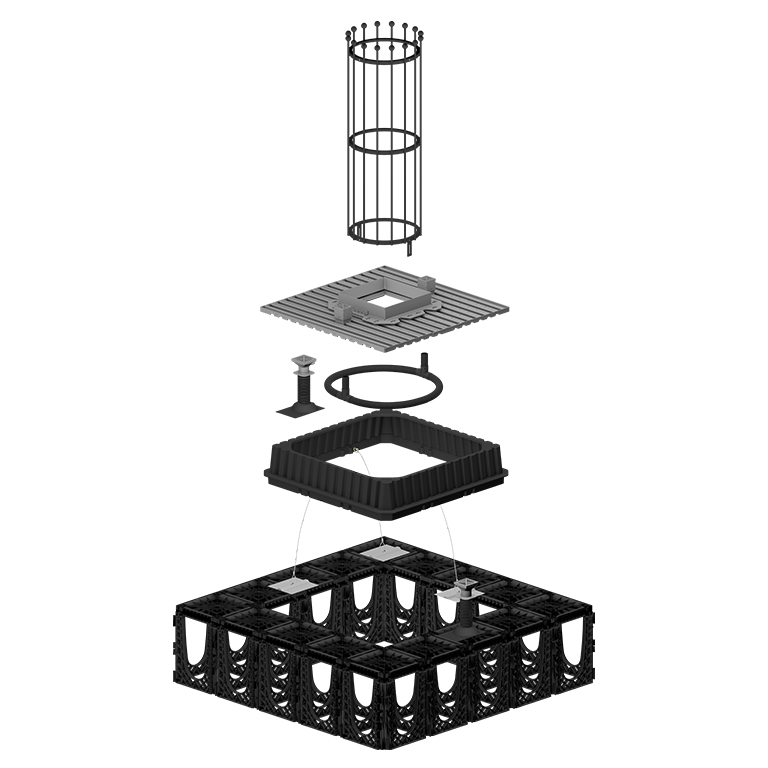 2002
Arborsystem – the first tree pit packages formulated – allowing a complete suite of products to be easily specified and installed, from a single source.
2003
Following continuing growth, Greenleaf moves to new premises: Haywood Way Hastings – a bigger building and plot, allowing us to further expand – and conducts some of our product trials on site.
2007
The Stratacell is launched – and further products follow, including underground guying, new ArborVent aeration products.
2009
Further product enhancements, grilles and guards, and building our export market.
2013
Further growth necessitated implementing the incorporation of Greenleaf and rebrand under a new name GreenBlue Urban Ltd. The new name reflects the move towards increasing the integration of trees and water sensitive urban design.
2014
Building commences on our new purpose built headquarters in East Sussex.
2015
Opening of our brand new head quarters - Northpoint, Compass Park. These excellent facilities have given us the infrastructure for the next stage of growth, additional warehousing, office space, research and development areas and training facilities, all set in beautiful grounds. Manufacturing plant on site also helps to reduce carbon footprint.
2016
We launch our state of the art soil panel system – RootSpace - a culmination of our extensive experience in soil cell systems globally, simultaneously reducing costs and improving performance and usability.
2017
We celebrate 25 years of growth, and reflect on the impact our products have had in enhancing urban environments through optimal tree growth, and the millions of lives improved by healthy trees.
2019
Introduction of HydroPlanter, our innovative 'plug & play' raingarden system, designed to make the installation and implementation of raingardens simple.
2020
Continuing research into plastic material alternatives and a focus on the circular economy leads to the introduction of RootSpace Ocean, combining our 100% recycled material with post-industry fishing waste.
2021
GreenBlue Urban introduces two new arms to the business, Smart Space & Air, to include street furniture and air pollution mitigation systems.
2022
The GreenBlue product range expands to include ReLuminate, our off-grid street light & HydroPlanter Flex raingarden.
GreenBlue operates as the interface between nature and the built environment
GreenBlue Urban have assisted with the planting of more than 550,000 trees over the past 30 years. Helping to improve the lives of millions.